Trust your 3e Electricians in Toronto
A world-class city and the largest metropolitan area in Canada. Toronto holds a population of 2.8 million with growth each year of approximately 22,830 people. We are electricians in Toronto and the Greater Toronto Area (GTA) which has a population of 6.4 million. With such a large and growing population, the need for trusted electricians is growing each day.  We are reliable electricians with dedicated project managers, coordinators, and service managers to support them in the field.  We are honest, hardworking, and love what we do.  
Toronto is a hub for finance and technology, boasting one of the highest rates of job creation in the tech field.  As a result we hope to see Toronto become a leader in the reduction of greenhouse emissions. As electricians in Toronto we would like to see Toronto become a leader in the EV charging space.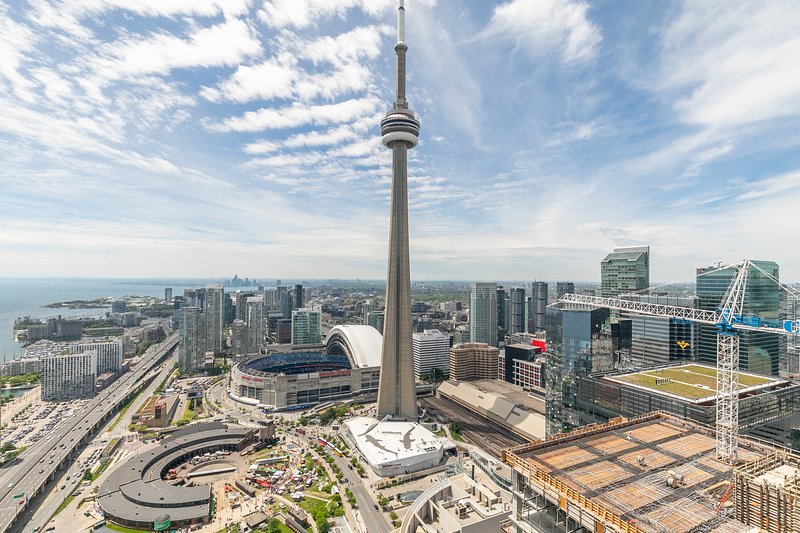 Toronto's Greenhouse Gas Emissions
55 per cent of GHG emissions comes from homes and buildings, primarily from burning natural gas to heat indoor spaces and water.
36 per cent of GHG emissions are generated by transportation, with 80 per cent of those emissions attributed to personal vehicles.
3e Electrical Construction, Lighting, Electrical, Smart Controls and EV Charging Services in Toronto
As best-in-service award-winning electricians in Toronto, we take great pride in workmanship and service. We strive to be the best and our many awards show that we are doing it right. Work with us and see why we keep winning.
Electrical Vehicle (EV) Charger Installation by electricians in Toronto
3e Electrical Construction is passionate about overcoming the barriers faced by electric vehicle car owners. We install all levels of EV charging and help homeowners and property managers overcome challenging processes. The chargers we install are affordable, placed in a convenient location, and safe for the home/property. Based on our experience with EV Chargers we see EV Cars becoming more and more in demand because we are seeing a massive demand in the installation of electric vehicle chargers. Because we are electricians in Toronto we hope to help all those who wish to upgrade to an electric car. In Toronto, you have two options for EV Charging for instance. You have public charging which comes with high costs per hour and safety concerns; and second, you have EV charging at home, which is the ultimate convenience.
Electrical Panel Upgrades and Service Upgrades installed by electricians in Toronto
As electricians in Toronto, we frequently are upgrading homeowners' old electrical panels to new and more safe electrical panels. We also upgrade electrical services. Residential service upgrades are typically from 100 to 200 Amps.
Lighting Installations in Residential, Multi-Residential and Commercial Installations
Chandelier Installations and specialty lighting are one of our favorite installations to do as residential and commercial electricians in Toronto. It takes a delicate strong touch to install a chandelier or specialty lights. Call us today to have your Toronto 3e Electrical Construction electrician install your chandelier.
Downlighting is such an all-purpose type of lighting, and their usage in homes, offices, and other businesses stays popular year after year. Your 3e electricians in Toronto also install pot-lights.
Smoke Detectors and Carbon Monoxide Alarm Installations
Life safety systems are a critical and important part of the safe occupancy of your space. Whether it's your home or business we are your electricians in Toronto.
Book your 3e Electrical Service In Toronto
Booking a service with us is super easy. You can talk to our chatbot Alice and schedule through her, you can call our office directly at 647-560-7995, or you can request a quote or service through the way of the link in the header or footer of the website. We look forward to hearing from you!